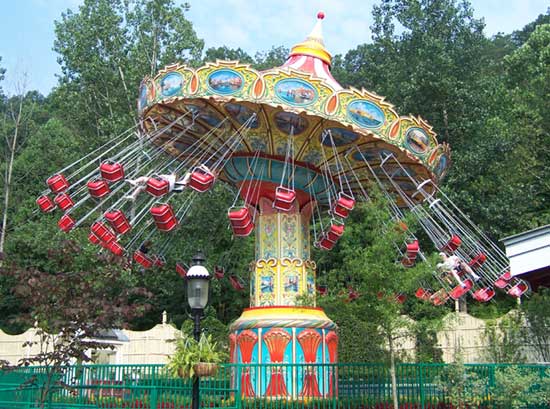 Park Model "Swing Carousel" at Dollywood Amusement Park, Pigeon Forge, TN

Standard Features: Hot-dip galvanized steel rotating structure (with exception of central column); hand painted decorative fiberglass with scenes of Venice (as on Bertazzon carousels) in 18th century styling with lighting; central rotating structure with 3 meters (10 feet) of lift from central pole (on 11 meter version); AC self-braking motors controlled by static frequency converter; stainless steel chairs suspended by stainless steel chains.

Optionals: Aluminum

This is equipped with 3235 movement of another log-type

swiss replica watches

, and the difference is a different dial color, which is chocolate. Similarly, this watch has all the advantages brought by the new

rolex replica watches

technology, certified by top-level observatory. Compared to 126,333, this watch to get started feeling very different, it is more calm, but very jump. Mosaic of diamonds by

uk replica watches

choice, the selection of the top diamonds, so watch in the fine also with some shiny, quite a wise men feel.

platforms with steps (elevated on 11 meter version); hot-dip galvanized fencing around the ride; fencing to match the ride (simlar to that of carousel fencing); operator's booth with style to match theming of the ride; special theming per customer's request.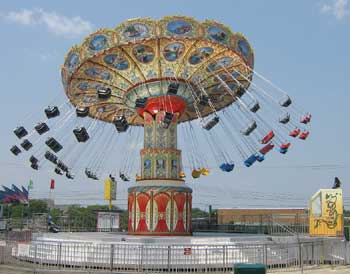 Trailer Mounted "Swing Carousel" at Jenkinson's Beach Boardwalk, Point Pleasant Beach, NJ
Assembly of the 1-Trailer
"Swing Carousel"
Technical Data/Specifications:
4.7 meter version
7 meter version
11 meter version
Seats/Chairs:
16
30
64
Hourly Capacity:
320
600
960
Total Weight:
2,600 lbs (12 kN)
7,100 lbs (32 kN)
44,000 lbs (195 kN)
Volume:
30 mc
30 mc
120 mc
Driving Power:
220V (3 kW)
220V (4 kW)
220V (46 kW)
Lighting:
110V (6 kW)
110V (9 kW)
110V (30 kW)
Rotation Speed:
9 RPM ccw
12 RPM ccw
11.5 RPM ccw
Transport:
1 - 20 foot container
1 - 20 foot container
Park Model: 2 - 40 foot containers.

Trailer mounted version: 1 - 53' trailer