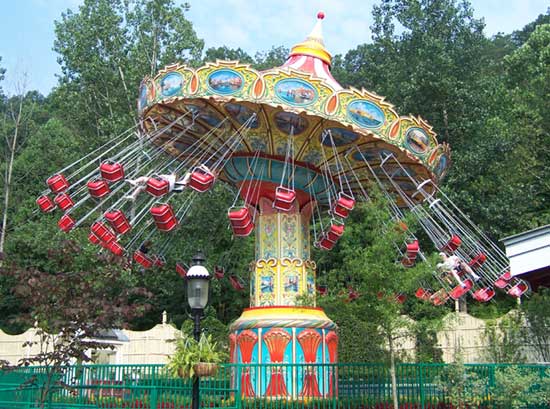 Park Model "Swing Carousel" at Dollywood Amusement Park, Pigeon Forge, TN
Standard Features: Hot-dip galvanized steel rotating structure (with exception of central column); hand painted decorative fiberglass with scenes of Venice (as on Bertazzon carousels) in 18th century styling with lighting; central rotating structure with 3 meters (10 feet) of lift from central pole (on 11 meter version); AC self-braking motors controlled by static frequency converter; stainless steel chairs suspended by stainless steel chains.
Optionals: Aluminum platforms with steps (elevated on 11 meter version); hot-dip galvanized fencing around the ride; fencing to match the ride (simlar to that of carousel fencing); operator's booth with style to match theming of the ride; special theming per customer's request.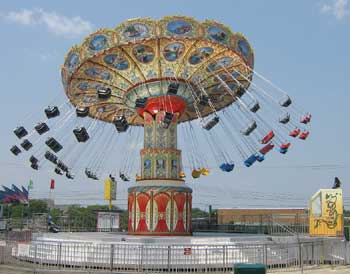 Trailer Mounted "Swing Carousel" at Jenkinson's Beach Boardwalk, Point Pleasant Beach, NJ
Assembly of the 1-Trailer
"Swing Carousel"
Technical Data/Specifications:
4.7 meter version
7 meter version
11 meter version
Seats/Chairs:
16
30
64
Hourly Capacity:
320
600
960
Total Weight:
2,600 lbs (12 kN)
7,100 lbs (32 kN)
44,000 lbs (195 kN)
Volume:
30 mc
30 mc
120 mc
Driving Power:
220V (3 kW)
220V (4 kW)
220V (46 kW)
Lighting:
110V (6 kW)
110V (9 kW)
110V (30 kW)
Rotation Speed:
9 RPM ccw
12 RPM ccw
11.5 RPM ccw
Transport:
1 - 20 foot container
1 - 20 foot container
Park Model: 2 - 40 foot containers.

Trailer mounted version: 1 - 53' trailer